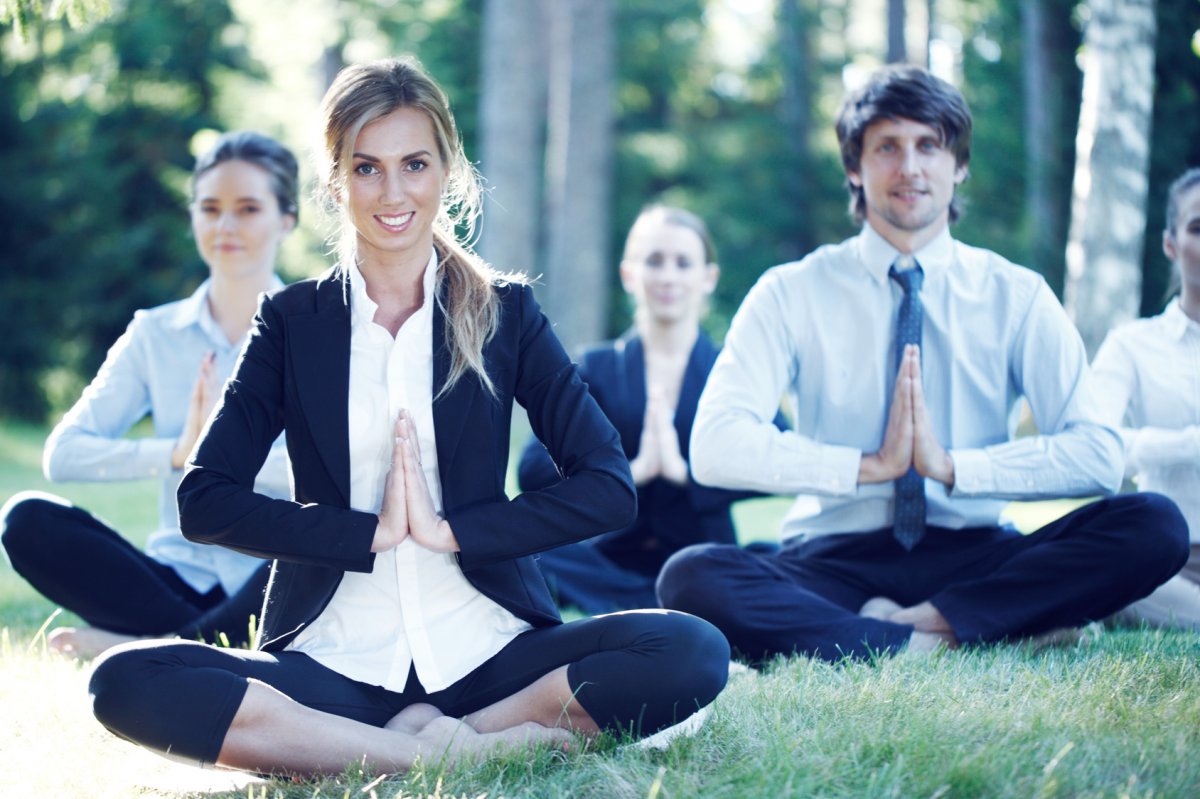 Corporate Stress Management Practitioner Training Program
(Holistic Training and Assessment)

6 months Part-time
10 hours of study per week
Online - High support.
Optional live Zoom masterclasses.
Internationally Industry Accredited.

America
Course Fees
(in US Dollars)
Paid in full on enrolment
$1,597.00
Payment Plan
First payment required on enrolment - $263
Plus 5 monthly payments of $263
Total $1,578

Next Course Commencement Dates:
April 18th, 2023
May 30th. 2023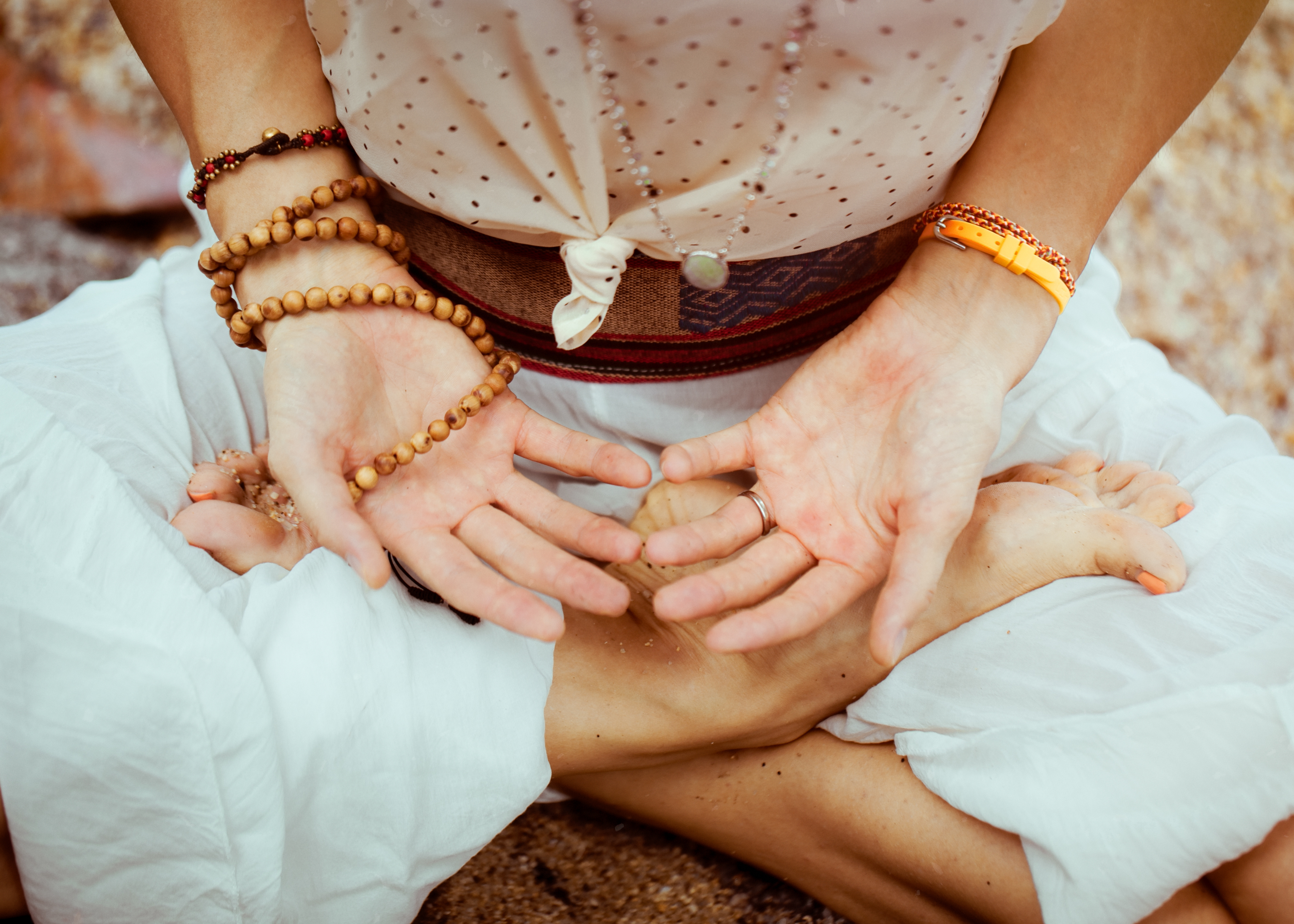 United Kingdom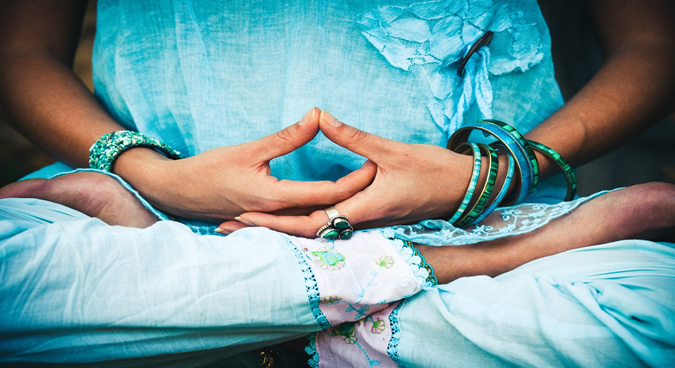 Other Countries
We currently provide this Program in America, the United Kingdom (except Ireland), Europe, and throughout Asia.

There are licensed training providers in the United Arab Emirates, New Zealand, Ireland, Australia, and Canada who we have allowed to provide our courses through intellectual property licensing
Gain the professional skills, industry knowledge, and confidence to build a rewarding holistic career.
Recognized certification:
(1) Meditation Teacher
(2) Holistic Counseling Skills for Meditation Teachers
(3) Stress Management Consultant

Initials graduates can use:
MBE.CorpStressprac. (Mind Body Education Corporate Stress Practitioner)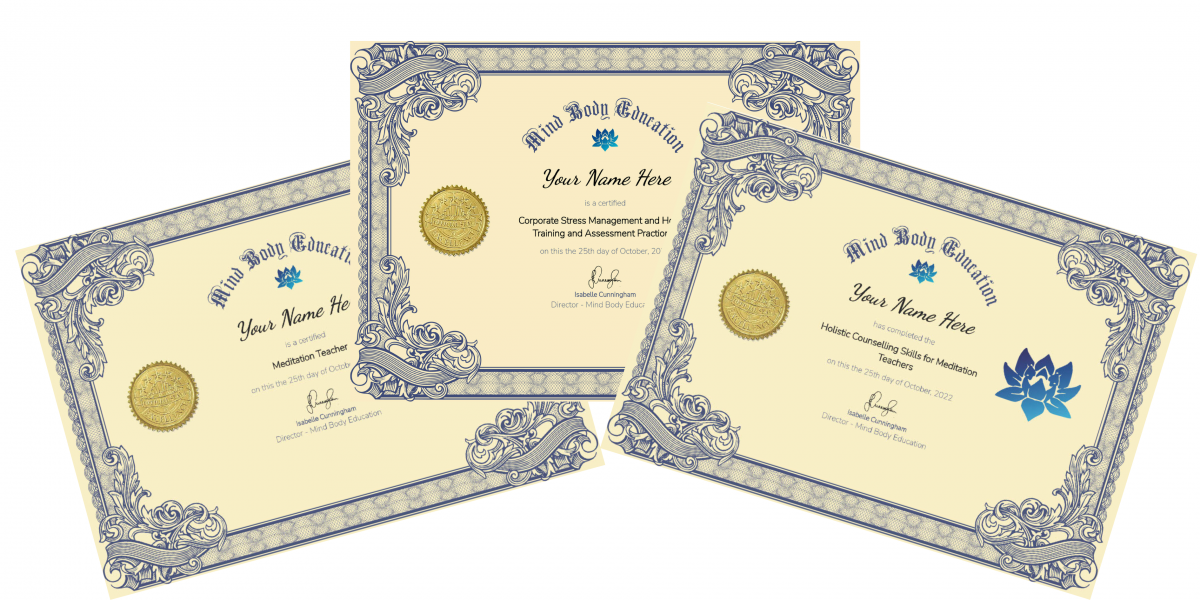 The perfect blend of science
and tradition to provide
self-empowering tools for good health and happiness.
Stress has proven to have a major effect on our mental, physical and emotional wellbeing and also dramatically impacts our work performance.
Some of the consequences of unmanaged stress in the workplace include absenteeism, diminished performance, negative attitude and cynicism, a decline in commitment and creativity, and a decreased ability to concentrate, learn and interact with other employees.
Stressed workers can also develop a range of negative health symptoms including insomnia, headaches, back pain, gastrointestinal disorders, fatigue, anxiety, irritability, and depression.
This program focuses on developing your skills as a Corporate Stress Management Consultant and using your qualification to help build strong workplace stress management programs, better self-esteem among employees, stronger workplace teams, and greater productivity levels for business owners.
Many companies are investing in stress management programs for their employees as more and more businesses have been required to pay compensation for employees adversely affected by workplace stress. This means Corporate Stress Management Consultants are in high and growing demand.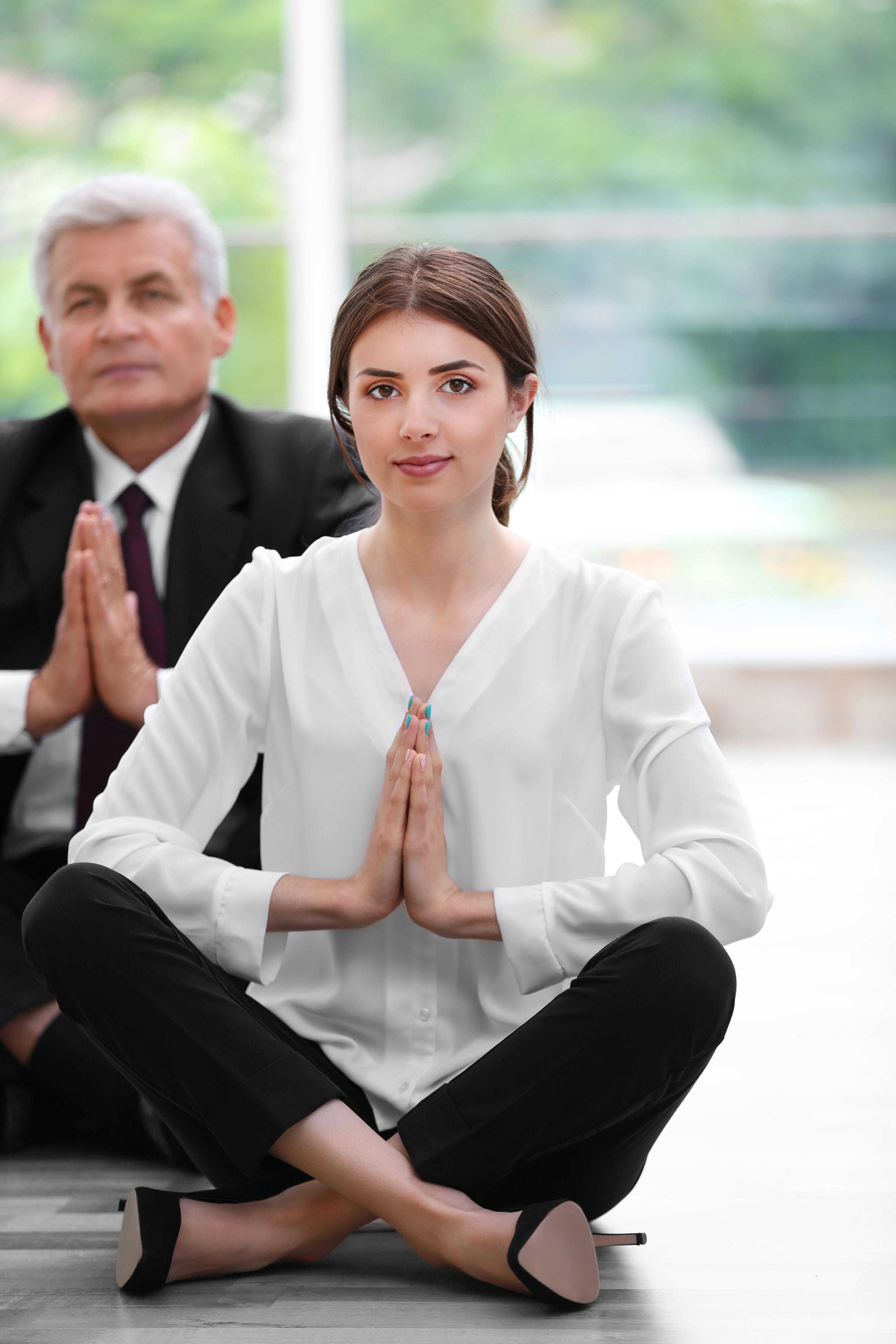 Who should do this course?
This course is particularly suitable for people with a corporate or business management background. You want to move into a more relaxed lifestyle where you can work the hours you choose, earn the income you deserve, and be your own boss.
Your workplace experience combined with the in-depth knowledge you will gain about the cause and effect of stress along with how we can apply simple, self-empowering tools to effectively manage stress will make you a highly skilled and confident Corporate Stress Management Consultant with an internationally recognized qualification.
If you are passionate about helping people live happier and healthier lives, reducing stress in the workplace to make people's day-to-day existence much more enjoyable, helping remove bullying from the workplace, and guiding people to bring their true authentic selves to work with them, this could be the perfect pathway for you.
Suitable for all ages over 18 years, including mature-age students.
No previous experience or qualifications are required.

High support with regular optional live classes via Zoom (and recordings to watch for when you cannot attend).
Regular live Zoom Masterclasses allow you to dive deep into the various topics in each module.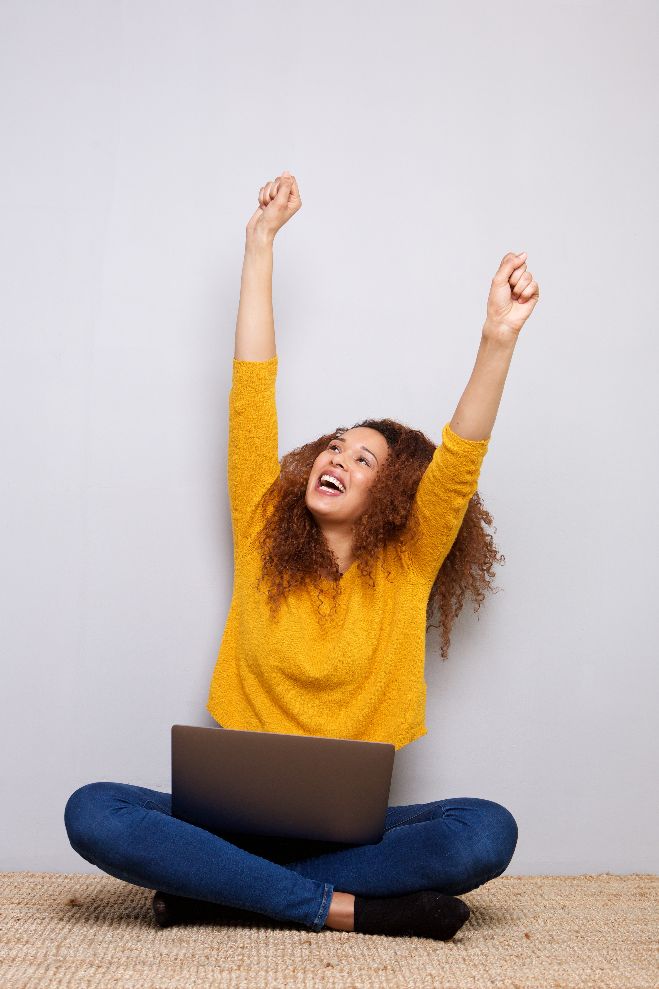 We make online learning effective, simple, and fun!
DELIVERY
Mind Body Education offers training for this course completely online.
You can study from home at times that work for you.
Students read lectures and watch some videos. You will be asked to write essays, answer questions, and complete some other activities and exercises.
SUPPORT
There are plenty of live classes and support sessions for you to attend. We work with a variety of time zones to suit our international students, and we record support meetings and classes for you to watch later if you cannot attend.

You can contact your teacher via email or arrange a Zoom call if you need additional support.

There is also an exclusive student social media group where you can connect with your classmates, chat with your teachers and receive information, ideas, and inspiration.
This course program contains the following modules.
Students can also attend weekly meetings with their teacher and fortnightly masterclasses. Video replays are available for meetings and masterclasses you cannot attend.

Unit One
Meditation Teacher Training Course

12 modules (120 Hours)
Online - High support.
Optional live Zoom masterclasses.
Internationally Industry Accredited.
See the
course content
HERE
Unit Two

Holistic Training and Assessment
19 modules (20 Hours).
Online - High support.
Optional live Zoom masterclasses.
Internationally Industry Accredited.
● Introduction
● Before you teach
● Your teaching space
● Integrity and intentions
● Setting the scene
● Creating strong foundations
● Learning styles
● Teaching styles
● Delivery techniques
● Student management
● Teaching online
● Teaching via Zoom
● Maintaining your cool
● Counselling and coaching skills for trainers and assessors
● Assessments
● Designing workshops
● Working from home
● Marketing your training and assessment courses

Unit Three

Certificate in Corporate Stress Management
4 modules (80 Hours).
Online - High support.
Optional live Zoom masterclasses.
Internationally Industry Accredited.
Course Content
● Corporate stress management and what a corporate stress management consultant does
●
Understanding your corporate stress management students and clients.
●
How to market your corporate stress management services and attract clients to your business.
●
Conduct Corporate Stress Management consultations to assess your prospective client's needs.
●
Assess and analyze your corporate clients' needs.
●
Design Corporate Stress Management proposals and provide quotes.
●
Calculate fees and costs for your services.
●
Source and book suitable venues for workshops when onsite workshops are not an option.
●
Design class plans for corporate stress management courses and workshops
●
Materials and equipment for conducting corporate stress management courses and workshops
●
Holistic counseling for corporate clients
●
Teach stress management and meditation to executives and upper management
●
Tools and procedures for corporate clients
●
Workplace health and safety
●
Managing difficult and unwilling participants
●
Assessing and reporting on productivity in the workplace
●
Facilitating corporate retreats
●
Providing ongoing programs
●
Developing your professional reputation and public image
●
Creating an online presence
Internationally Industry Recognised
This course is recognized in 27 countries:
Oceania:
Australia &
New Zealand
UK and Europe:
United Kingdom, Ireland, Germany, France, Spain, Portugal, Denmark, Gibraltar, Liechtenstein, Iceland, Belgium, Luxembourg, Greece, Latvia, Sweden, Channel Islands, Norway, Estonia, Austria, Malta, Isle of Man, Netherlands
South Africa
United States
Canada