Discover what some of our graduates are doing
Our graduates receive a lot of ongoing support, inspiration, and connection from us throughout their training and after they graduate because we care about helping you gain a rewarding career, not just an education.
You can meet some of our graduates below and see what they are doing now.
Erena is a graduate of the Holistic Integrated Creative Arts Therapy Program.
As a qualified Holistic Integrated Creative Arts Therapist, Erena has created a wonderful career through her business, Lantern Holistics, with a strong focus on guiding professional women all over the world to their soul wisdom with trauma-informed mentorship.
Maria is a graduate of the Holistic Counselling Program.
Maria is a Women's Holistic Counsellor who has created a wonderful business, Zen Holistic Counselling, with a focus on Holistic Counselling, Meditation Teaching, Art Therapy, Sound Therapy, and Movement Therapy with face-to-face OR Zoom Counselling available.
Jennifer is a graduate of the Holistic Counselling Program.
Jennifer is a Women's Holistic Counsellor whose thriving business, Wise Woman Holistic Health, provides face-to-face counselling services in Queensland Australia, and online internationally.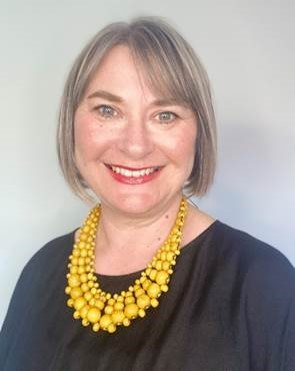 Bronwyn Romain
Bronwyn graduated from our Holistic Integrated Creative Arts Therapy Practitioner Training course on 3/11/2020.
"Hi, I am Bronwyn I am an artist and women's wellbeing coach, and diversional therapist in New Zealand. I am particularly passionate about brain health and how creativity contributes to mind-body wellness.
I absolutely love what I do. For the past year, I have been working part-time and continuing my studies completing a Bachelor of Applied Science – in Psychology. Now my primary role is working as a diversional therapist in a residential care facility and my second role is providing menopause education for businesses and in the community. Of course, I also make time for my own creativity which has taken on an important role in my life since completing HICAT.
A special project I recently oversaw was a pen pal writing arrangement between a class of local school children and a number of residents. This activity was beautiful and beneficial for both groups. For the residents it provided an opportunity to express themselves in writing, recalling events of the past, the things they enjoyed doing, the places they have been, the sports they have played, and what it was like when they were 11.
For some it was long, long ago – for one resident it was 92 years ago! It was a real privilege for me to sit for a while and listen and record these wonderful memories. I truly believe just being heard increases an individual's sense of worth and reinforce that their lives are of great value. Many asked 'how do they even know about me'. The children were eager and thrilled to receive the replies to their initial letters."
John Strickland
John graduated from our Holistic Integrated Creative Arts Therapy Practitioner Training course on 27/7/2020.
"John's Holistic Integrated Creative Arts Therapy provides children a safe space to explore their emotional connections and build on skills through the creative arts. As an early childhood educator and a creative therapist, I am dedicated to positive outcomes for all children regardless of age or ability.
Children are given the opportunity to explore Painting, Drawing, Music, Movement, Relaxation, Poetry, Creative writing, or any creative field they wish. Creative Therapy is not "art lessons" but an invitation to explore emotions and develop language and motor skills.
Visiting Early Childhood Education Centres to provide meaningful music and movement as well as creative arts is a very enjoyable part of my business and I love how the children are always excited to see me.
To witness children, connect and achieve is such a privilege and I am so grateful to be part of that."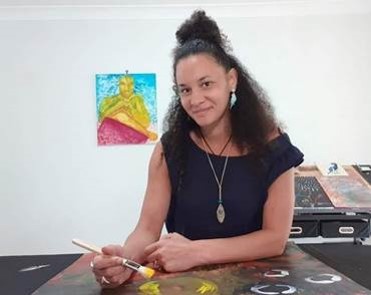 Erena Hodgson
Erena graduated from our Holistic Integrated Creative Arts Therapy Practitioner Training course on 24/6/2019.
"I help Spiritual professional women, Business Women, Healers, Artists and Entrepreneurs reduce stress, release traumatic energy, heighten their intuitive perception and learn empowering tools to live life well in 180 days without trauma, anxiety or low self-esteem stopping them from making soul-aligned decisions and creating happiness.
When I am facilitating workshops, circles and in 1:1 sessions, my whole vibration lights up with connection and divine purpose. It is truly a blessing to be of service to others that are grappling with unresolved trauma, anxiety and low self-esteem and supporting them to move and believe in a higher calling for their lives. It is life-changing the work that we are doing!!
It hasn't been easy, but I learn quickly and implement even faster to let others know: healing is possible, hope is definitely allowed, and we can lead our own way to wellness.
I also continuously learn, research, and discover more modalities to add to my services so I can be a genuine expert in my industry.
My main inspiration comes from the brave and strong women I meet on this incredible entrepreneurial journey. They overcame lived experiences and are ready to live life -- not just survive, not just to be okay, not to just settle for mediocre but to tap into their higher self and follow that calling!!
With kindness and love, Erena"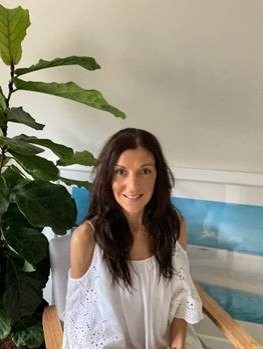 Jenai Harrington
Jenai graduated from our Meditation Teaching and Holistic Human Development Training Program on 9th May 2022.
" (My business) Evolve Holistically was created from my passion, drive, and following my inner knowing that I can create change in the world by helping using my skills and talents for a higher good.
I am guided towards empowering and inspiring women, men, and adolescents to find inner peace through self-acceptance, trusting their inner guidance, and living their life on their own terms. I help others on their healing journey by gently allowing them to become aware of where they are misaligned, to begin listening to their soul's voice, and teaching and guiding them through counselling, meditation, coaching & mindfulness practices. I specialize in supporting individuals through grief, trauma, addictions, depression, stress, burnout, anxiety, low self-esteem and confidence, relationship problems, and inner child healing."
Sasha Dandashi
Sasha graduated from our Meditation Teaching and Holistic Human Development Training Program on 26th
August 2021.


"The only Constant in life is Change"
- Heraclitus
"Hello, I'm Sasha, an IMTT & IPHM certified Holistic Wellbeing Counsellor & Mediation Teacher, and above all, I am a life-long advocate of the holistic wellbeing approach. I help women through their life's transition and change episodes, with the aim of supporting, guiding, and empowering them through their individual journeys. Periods of transitions & change (whether it is divorce, marriage, menopause, moving, career, retirement, loss of beloved ones) may have huge impacts on people, leading to significant emotional challenges, stress, and feelings of being lost and overwhelmed.
As a holistic counsellor I guide my clients compassionately through their individual journeys in a safe, caring, and non-judgmental space. I have a professional but simple and intuitive approach, blending traditional talk-based counselling with tailored therapeutic holistic tools such as meditation, mindful movement, and journaling.

My approach has been cultivated considering that the Whole-Being: Body, Mind Heart, and Spirit thrive when in joyful harmony, and it is influenced and shaped by my profound faith in these values: Loving-Kindness, Acceptance, Mindfulness, Positivity, Compassion, Gratitude and Joyfulness.
Celebrate your Being
Sasha"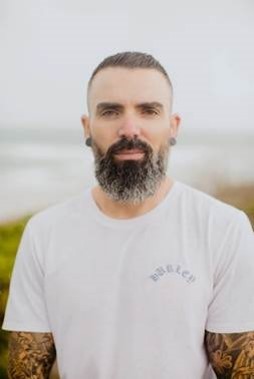 Warren McManus
Warren graduated from our Meditation Teaching and Holistic Human Development Training Program on 8th October 2021.
"My connection to meditation started when I began to experience symptoms of poor mental health related to past childhood trauma. I knew I had to find a way to deal with the past and move forward in order to be the best version of myself for my wife and children and be someone my children could look up to one day. Around the same time, I also started studies on trading the financial markets and quickly learned that mindset was, above all, the most important aspect in order to become a successful trader.
Fast forward a few years and many hours of hard work, and I found myself in a far more positive, grateful, and hopeful mindset, and I noticed that this too was starting to influence those around me in a positive way. I decided to deepen my own knowledge and delve into the world of teaching meditation with the inclusion of a holistic counselling/coaching approach in the hopes that I can support others to find the inner peace and positivity that I have grown into over the past years.
My passion is in men's mental health, and I believe that there is much work to do in this space to ensure that men in our community are getting the support they need, and feel comfortable to engage in the support being offered."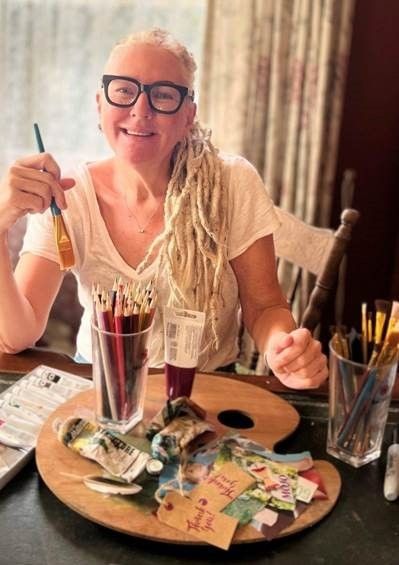 Dr Katrina Wisbey
Katrina graduated from our Holistic Integrated Creative Arts Therapy Practitioner Training course on 16/5/2022.
"I run a creative art therapy practice called the ' I am guru project '. My aim for 20 years has been to empower women to believe in themselves through practicing self-expression, questioning our outdated beliefs, and taking back our power, lost, stolen, or forgotten through various roles and identities we mask up on through our journey. To rekindle our connection to our inner child.
What inspires me?
My journey includes the death of my husband, disability in my children, PTSD, and my own disabilities including cancer and recent strokes. I'm learning to keep the faith the hope. It has been challenging, and at times I didn't think I would make it if I'm honest... but creative therapy reignited my sense of self and highlighted my limited belief patterns that no longer served me. It freed me from former society identifications that were masked and brought me back to my soul of self-love - that's the power of self-expression. It reconnects us to who we are, and that is a love like no other. To share this with others is an immensely powerful sacred space. We are worthy of that connection, and we deserve this space of self-care."