Here's what our graduates think of us.
We don't want to blow our own trumpet too loudly, but we do get some wonderful feedback from our course graduates.

In fact, we are grateful and humbled by the hundreds of emails and messages we receive from happy graduates.

Below is what some of our graduates have to say about their experience with us.
One student's reflection on the HICAT course
Here is a reflection on her journey through the Diploma in Holistic Integrated Creative Arts Therapy by one of our wonderful Honours students, who is now ready to begin her practice as a Creative Arts Therapist and make a positive impact on the world - Well done, Sheleen, we are so proud of you!
Jackie wrote:
I thoroughly enjoyed the HICAT course. I am going to miss it now that it has ended. I am very thankful for all it has taught me and changed my life for the better. I am excited about the opportunities that it has provided me with. This truly is an inspirational, life-enhancing and exhilarating experience packed full of enlightenment.
Katherine wrote:
I
have enjoyed the experience of HICAT. It has allowed me to explore many areas of my life and address issues. It has also given me the confidence to pursue my artistic dreams. There have been elements I have found hard or struggled to engage with but I feel this is good, as it gives me an insight into what it might be like for my clients. Thank you to everyone at HICAT for your support in allowing me to complete my diploma and start my career as a Creative Therapist!
Mandy wrote:
The HICAT course was pivotal in helping me build the confidence I needed to do the work I am meant to be doing. The practical activities are purposeful and the content in the lectures is clear and informative. Most importantly, I experienced a deepening of my sense of authentic self. I got to know myself even better and my positive core beliefs were affirmed. I was able to do the course independently and entirely at my own pace. And while there were many opportunities to get support and additional connection, for me, the independent nature of my study was perfectly suited to me and was exactly what I was looking for. The HICAT course was a wonderful investment into myself and my future.
Student feedback
Holistic Integrated Creative Arts Therapy Program
Rebekah wrote:
This was one of the most rewarding, expanding and personally gratifying endeavours I have undertaken and I am so grateful for the experience and assistance along my journey. I am thrilled to take my bag of jewels collected along the way and share them with the world.
Michelle wrote:
I have had a fabulous time doing this course, learnt a huge amount about integrated holistic creative art therapy and about myself. The art projects have reignited my passion for creating art and a mess :-).
Bindi wrote:
I feel that this course has been nothing short of life-changing for me, and I am so grateful. My whole outlook on my life and my future has opened up, and my demeanour has changed and that is being reflected in my children and even the dog. I am much calmer and happier and can't wait to help others change their lives for the better too! Thank you so much!!!

Julie wrote:
This has been a timely and purposeful journey at a great time of growth for me. HICAT will continue to add to the rich tapestry of my new learning and spiritual growth as I move forward on my enlightening path.
Kerry wrote:
Thank you for such a wonderful course, I have thoroughly enjoyed myself and would be interested in more in the future.
Sam wrote:
I thoroughly enjoyed this course! I learnt so much from start to finish about such a range of different things, from fundamental psychology to different creative modalities to help with healing trauma. I am very excited to start my own healing practice to share what I've learned in this course. I would recommend this course to anyone wanting to learn about creative holistic healing, there is so much value in this course.
Romy wrote:
The course has given me healing and a renewal for life. A chance to explore my deeper thoughts and feelings. It has been a journey of paradigm shifts, challenges, transformation and a chance to reconnect with me and be present. Thankyou
Michelle is a graduate of the Holistic Integrated Creative Arts Therapy Program.
Michelle Holmes from Hand on Heart Expressions is a graduate of our Holistic Integrated Creative Arts Therapy Practitioner Training Program.

Michelle offers online and face-to-face workshops and individual sessions. specializing in stress management.

R.N wrote:
Thank you, I truly enjoyed every aspect of this (certificate level) course. I have started the Mediation for Children course, and I am finding it thoroughly enjoyable.
Andrea wrote:
I have learned so very much about meditation, chair yoga, holistic counselling and running a successful small business from both an intellectual and practical perspective, and have acquired a large number of complementary and valuable skills, techniques and tools that I will be able to use for the benefit of myself and others for the rest of my life.
Annie Wrote:
There is NO other course that you can do that has the ability to CHANGE YOUR CAREER, INSTANTLY!!! There is simply NOTHING else you could possibly need to start your own holistic wellbeing practice... with all that is given at the completion of Certificate in Meditation and Holistic Counselling!"
Student feedback
Meditation Teacher and Holistic Counselling Programs
Marla wrote:
The journey (through this course) has been a pleasant one as the information is there to revise in a simple and effective manner. If I was to measure my growth both professionally and personally during the last 12 months it has been an uphill curve and I feel that my development will serve not only myself, my family and my friends but part of the community that surrounds me.
Heather wrote:
Many blessings for the opportunity to attend your course I received my motivation back and my "mojo" to believe in myself again Blessings to you all.
Vicki R wrote:
I found the course to be very thorough and the tutors to be very helpful and easy to contact. This course gives you many options for your future both professionally and personally.
Shelly wrote:
This has been a wonderful course which I often use to enhance counselling clients preferring to treat people holistically. I have learned more than I expected and it far exceeded my expectations. I recently opened my own counselling business and am excited about adding holistic ideals and Meditation to my practice. I have completed the Advanced
Renae wrote:
I have studied Counselling through a government accredited provider and as much as I thoroughly enjoyed the content, I felt that it lacked what your course offered. Tools, homework, business set-up ideas, marketing, research, fee structure, connection and ongoing support. I must commend you on not only providing practical information that is going to help one embark as a successful Teacher, but you also gave the other tools to help people embark on this journey feeling confident that they not only have the skills to work in this area, but they have the ethics and understanding of good customer service and professionalism as well.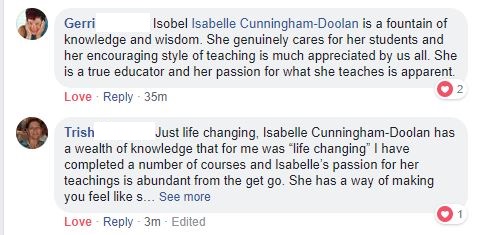 Maria is a graduate of the
Holistic Counselling Program.
Maria is a Women's Holistic Counsellor who has created a wonderful business, Zen Holistic Counselling with a focus on Holistic Counselling, Meditation Teaching, Art Therapy, Sound Therapy and Movement Therapy with face-to-face OR Zoom Counselling available. Maria's website is: You can contact Zen Holistic Counselling on Mobile: 0402004191or email: mariazantiotis@optusnet.com.auFind Holistic training courses like the one Maria graduated from at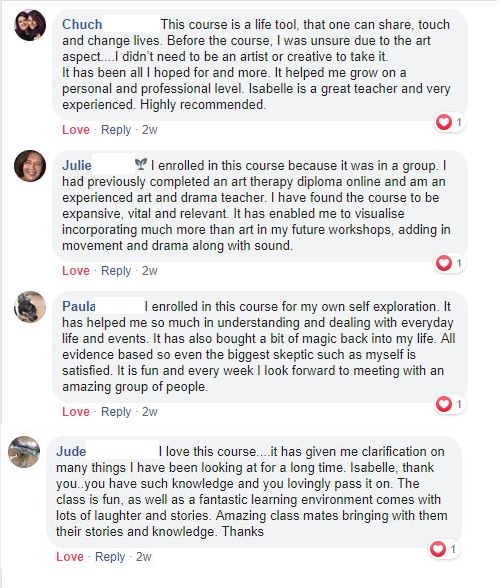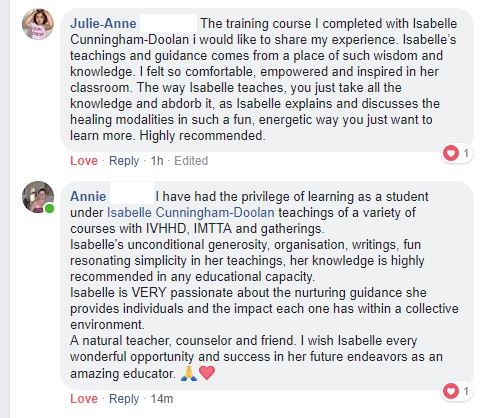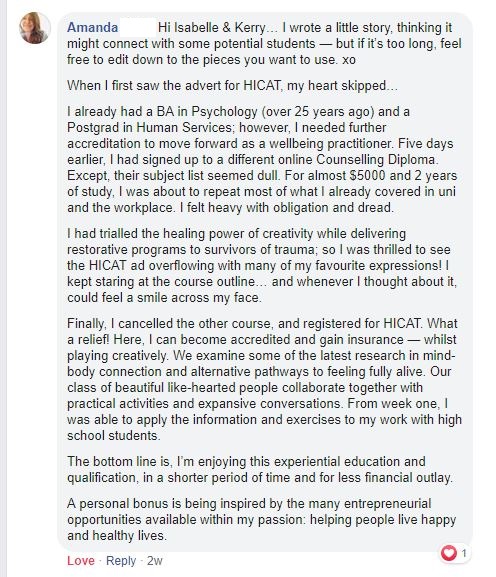 "This (HICAT) journey has helped me:
-Heal a broken heart
-Understand my self so much better
-Change my negative belief systems
-Understand the power of the mind
-Change some non-serving, behaviours
-Explore my creativity further
-Love me for who I am
- Connect with others through shared experiences
-Connect to my spirituality more deeply
The list could go on and on!
After 2 years of immersing myself into HICAT, my passion only grows stronger and stronger to share this education with as many people who wish to achieve their own goals, heal their own hearts and make a business of their own doing what they love."
Graduate, Teacher. Practitioner and Training Provider.
Sanja
The College of Conscious Living
"Feedback!!
I am looking over the feedback (from my HICAT clients and students) and reviews for the past year and it is making my heart expand."
Graduate, Teacher and Practitioner
Erena
Lantern Holistics

"HICAT has definitely been the most rewarding soul filling adventure.
Forever Grateful to MBE, Isabelle and Kerry for being the most amazing, inspiring mentors and for creating these amazing courses that honestly, change lives."
Graduate, Teacher. Practitioner and Training Provider.

Julie-Anne
The Soul-Full Mind College
Awards!
We have won several awards, including:
Corporate America Today – Annual Awards

Best Global Holistic Therapy Training Provider 2023 - Australia
M & A Best Global Holistic Therapist Training provider 2021 and 2022
Corporate Vision Best Global Holistic Therapist Training provider 2022
The International Institute of Complementary Therapists awarded the Seal of Excellence - Global Education Ambassador 2021 and 2022